We stayed for a couple of nights in a small city called Giurgiu, across the border from Bulgaria just on the Danube. While there might not have been 10000 dogs, you could be forgiven for assuming so. They were everywhere; strays roaming the streets in small packs, or just on their own. You had to be careful to not stand in dog poopie.
Aside from the dogs, Giurgiu doesn't have much going for it but we really enjoyed a day off to relax. Both Tris and I had been getting grumpy at just about everything so a day doing sweet f all was called for. We stayed with an amazing host family, with mum plying us with food every morning, and the two daughters showing us around the town and introducing us to various local characters.
Our first night had us drinking beer at a local bar where between 7 of us we drank 22 beers. It cost us a total of £22 – Tris and I were quite popular after we generously offered to pay for it all. Later on in the evening we ended up charging through the streets in a pick-up truck to go swimming at someone's pool, followed by more beer and a sing-a-long. They were amazingly awful enough so that even I could join in. It was quite fun and very entertaining. We stumbled home somewhere around 2pm and managed a sleep in.
Breakfast from mum was intriguing. I braved a milky yoghurt thing that was drinkable but wasn't particularly pleasant at the same time. Tris wussed out. Once you got over the idea of the chunks of stuff in it then that made it easier.
The girls then took us for a wander around the town. We saw more dogs, homeless people, deteriorating buildings and, surprisingly, lots of roading improvement works. The fat taxi drivers lifting their tops and rubbing their bellies was a particularly intriguing sight and one thing I might bring back to London to start a trend. But what was really fascinating were the gypsy houses.
There are poor gypsies and rich gypsies. The poor meet your usual expectations of what a gypsy looks like, but the rich ones lead a complety different life. They build these enormous houses; 2 or 3 stories high with many balconies and ornate facade. They call them Gypsy Palaces. It's all about keeping up with the Joneses, trying to ensure your house is better than the one next to you. The funny thing is that they spend all their money creating a great looking house from the outside, but can only afford to live in two or three rooms on the inside. They are never completed properly, sometimes to the point where they poop in a hole out back because they don't have the plumbing done.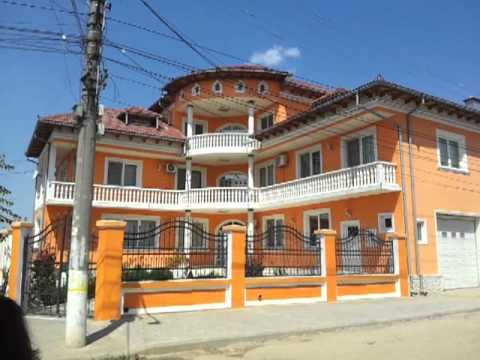 Our time in Guirguin was great. That was solely due to the people we stayed with and met. As a tourist destination it probably wouldn't feature on anyone's list unless you like cheap beer and dogs.